DIAGNOSTIC PRINCIPLES OF OUR DENTAL CLINIC
The director and staff of the clinic implement detailed dental diagnosis of patients requiring treatment, such as concerning occlusion of the upper and lower teeth, the status of remaining teeth, jawbones, and gums. They show the obtained diagnostic information to patients, and consult with them on the overall treatment course, specific dental techniques to be used, and budget estimates. Actual treatment starts only after a patent's consent is obtained. After treatment is completed, the director or staff will give advice as to regular inspection, dental caries preventive measures, and daily mouth cleaning, so that patients will be able to maintain good dental conditions for a long time to come.
Sometimes English Speakers Visit our Clinic. So Our doctor can Speak English fluently . Some staff can also communicate in English.
We have a friendly atmosphere.
If you have any questions or concerns
Please Contact us by phone or e-mail.
INTRODUCTION OF FACILITIES AND EQUIPMENT
Although the building is relatively old, and the director and staff of the clinic have worked for relatively long periods, the facilities/equipment and attitudes of everyone at the clinic are always new and fresh. In particular, disinfection facilities are thoroughly advanced, as shown below, providing sterilization measures for all parts of equipment, including its turbine and engine portions:

1. Gas sterilization (Dental Gas Lizer)
2. Formalin gas sterilization (Hollhope)
3. Autoclave (STERImaster)
4. Alcohol sterilization (Chemiclave)

Implant surgery is performed in a clean booth, which provides a sterilized chamber similar to a general surgical operation room.


Entrance to clinic
Sterilization facilities (above)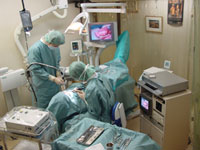 Surgery room
▼Cleaning Price
About 3.000yen(all teeth) applicable to insurance
4.200yen(all teeth)  an one's own charge



Cleaning may require 2 Visits.
depending on the condition of your teeth.

Our Clinic offers Nitrous Oxide etc...
---
---


20-1, Nanakita aza machi,Izumi-ku, Sendai 981-3131
TEL. : 022-372-9412 FAX : 022-372-9407
E-Mail :info@kippeichan.com
Treatment hours: 9:00 〜17:00, Monday through Saturday